If you're looking for a night full of fun and entertainment during your stay in Texas with your ladies, then check out Kickapoo Lucky Eagle Casino Hotel. It's well worth a visit! Whether you want to relax and enjoy a few nights in luxury accommodation with spacious and comfortable suites. Enjoy the spectacular views and dining in the Red Sky Grill restaurant and bar. Or hit the Kickapoo Lucky Eagle Casino for a night full of gaming with a wide range of innovative games on offer (and even bingo!). Kickapoo has got you covered on all fronts. Here's what you can expect to find during your visit…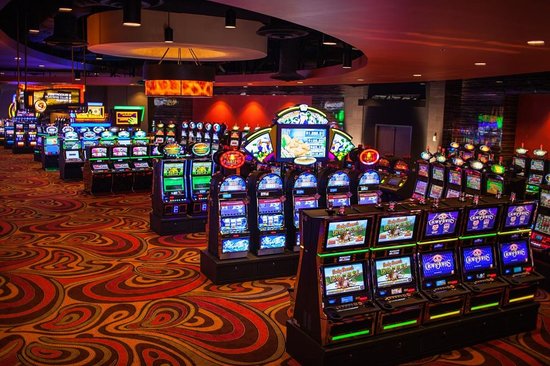 Gaming

Kickapoo Lucky Eagle Casino Hotel is without a doubt one of the best land-based casinos in the whole of Texas for gaming. Just check out trip advisor if you don't believe us! The reviews talk for themselves. You will ring a wide range of gaming options on the casino floor as well as a bustling upbeat atmosphere. Here are some of the different games that you can expect to find…
Slots

There's an outstanding 3,300 different slot games on offer. You will find slot games from the most reputable, well-known and successful gaming providers from all over the world. Such as Microgaming, International Gaming Technologies (IGT), Bally Technologies, Video Gaming Technologies (VGT) and many more. You can play some of the popular, innovative and modern slot games available. Old game titles include 'Wheel of Fortune, 'Mr. Money Bags', 'So Hot', 'La Loteria', '88 Fortunes', 'Mega Meltdown', 'Fishing Bob' and 'Dangerous Dinousar'. And new game titles include 'Win Pigs Fly', 'Fortuna Goddess of Luck', 'Zillion Zebras', 'Star Magic', 'Sword of Fortune', 'Fox Trot' and many more. Kickapoo Lucky Eagle Casino is always adding new slots to their ever-expanding selection of games. So it's unlikely that you won't be satisfied when choosing this casino when looking for somewhere to gamble in Texas.
Poker

Kickapoo Lucky Eagle Casino is well-known not just in Texas but in the whole of the United States for the high-quality poker experience it offers. It features a luxurious private poker room that holds tournaments every week. You will find 'Bad Beat Jackpot' with poker games. The latest jackpot wins are:
January 3rd, 2019: $264,375.09
February 12th, 2019: $191,298.45
October 7, 2019 | $308,530.40
So join in for your chance to win this life-changing jackpot amounts. You have to be in it to win it!
Bingo

And just when you thought the gaming options couldn't get much better – Kickapoo Lucky Eagle Casino even offers bingo. You can play bingo five days a week! There are some incredible payouts and promotions up for grabs.
Promotions

There are many Lucky Promotions too. You can expect:
⦁ Players club members aged 55+ can get 50% off a meal in limited food venues. This is available every Wednesday in 2021! From 7am – 11pm.
⦁ Happy hour in the Centre Bar! Every Monday – Thursday 3 pm – 6 pm. Which include $4 well drinks, $4 domestic beer and $4 house wines.
⦁ Get Lucky Bonus. This gives all players on the casino floor the chance of winning a share of $350,000 cash. The drawings are held on Saturdays March 13th and 27th.
⦁ Free Birthday Bingo! The casino offers free bingo when it's your birthday because they love to give back to customers and make you feel special. You will receive a paper pack and a dauber on your birthday.
And many more.
Restaurants & Bars

You can choose out of five different restaurants to dine in during your visit, each with a distinct ambience. There's Red Sky Grill, Azul, Ihop, The Marketplace and Riverbend Cafe. Here is a little information about them all…
Red Sky Grill

Red Sky Grill offers the most incredible panoramic views. So you can wine and dine whilst looking over Texas from up above. You can enjoy a unique dining experience at this restaurant which is full of traditional American dishes and delicious appetizers. With a great selection of wine, beer and other alcoholic beverages. It offers a South Texas atmosphere like no other.
Azul

If you fancy an authentic Mexican dish, then Azul is the place to dine. The Mexican cuisine is rich with healthy but mouthwatering flavours, served with fresh ingredients and a perfect accumulation of meat and vegetables. And if you want a margarita to accompany your delicious food then the Azul bar staff will make them to perfection. And of course, if you fancy something a little stronger there's top-notch straight tequila, that's aged for between two months to a year in oak barrels.
IHOP

IHOP is well-known for being the perfect American-style restaurant to dine at. So if you're looking for the full Texas experience, definitely consider visiting IHOP. We'd recommend heading there for either breakfast or brunch due to their incredible extensive breakfast menu. They're well-known for their world-famous pancakes (if you try them, you'll thank us later). Along with many other breakfast options to choose from! The dinner menu isn't too shabby either, offering affordable and delicious American dishes.
The Marketplace

The Marketplace is a whole other building next to the Kickapoo Lucky Eagle Casino Hotel. Which offers four different restaurants and cuisines to choose from! Which include Freddy's Frozen Custard & Steakburgers, Grande Pizza Co, Eagle Eats and Wok Inn Asian Cafe. It's a short distance (roughly 5 minutes) from Kickapoo!
Riverbend Cafe

The best thing about Riverbend Cafe is undoubtedly the around-the-clock dining with the 24 hours a day opening times! This is perfect for the night owls who don't want to worry about interrupting their evening to dine out. You can dine at whatever hour you fancy! Riverbend offers an extensive menu so there's something to please everyone on the menu. Therefore, it's the perfect place to take a big group of friends or family. You can choose from appetizers, pizzas, sandwiches, salad, steaks, burgers, American specials and on-the-go snacks.
Bars
Centre Bar

You will find the Centre Bar placed in the middle of the casino floor action. This is for customers convenience whilst gaming. Because let's face it, no one wants their gaming time interrupted by travelling too far to get a drink. This bar practically offers any alcoholic beverage you fancy. And the bar staff are very accommodating, so if you fancy something that's not on the menu they'll do their best to make what you want. The bar is designed in a circular shape with comfortable chairs all around. There are big screens at every angle which show the latest sports games. So if you want to relax and take a break from the bustling casino floor action then Centre Bar is the place to go.
High Limit Bar

You will find the High Limit Bar right next to the high limit gaming area. So it's close to all the incredible gaming action going on! This bar specialises in cocktails, so grab a mojito, espresso martini, frozen strawberry daiquiri, cosmopolitan or any other well-known and popular cocktail. You can place your drink orders until 2 AM!